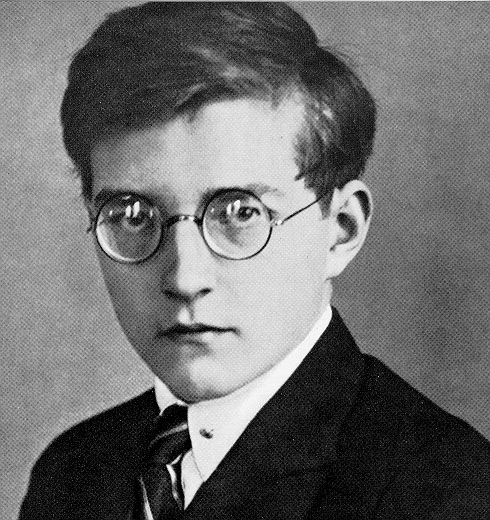 The Composer for October 2018 is:
Dmitri Shostakovich
Born: Sept. 25, 1906 in St. Petersburg, Russia
Died: Aug. 9, 1975 in Moscow, Russia
Nationality: Russian
Style/Period: Modern
Famous Works: Jazz Suites 1 and 2; Lady Macbeth of the Mtsensk District (opera, also called Katerina Ismailova); "The Nose" (opera); "The Age of Gold" (ballet); Piano Concerto No. 1 in Cm (with trumpet); 5th and 10th Symphony

Dmitri Shostakovich was the second of three children born to Dmitri and Sofiya Shostakovich. His father was an electrical engineer and his mother was a pianist who started teaching Dmitri when he was 8 years old. He was very talented and had a remarkable memory. Several times his mother caught him pretending to read by playing the previous lesson's music when different music was placed in front of him.

Later, Dmitri entered the St. Petersburg Conservatory where he graduated with degrees in both piano and composition. His first major musical achievement was the First Symphony (premiered 1926), written as his graduation piece at the age of twenty. Dmitri composed operas, ballets, film music symphonies and piano music.

During World War II, the Nazi army was attacking Leningrad (aka St. Petersburg), the city where he lived. Shostakovich couldn't fight in the army because his eyesight was so poor. Instead he worked as a firefighter, putting out fires from bombs. Dmitri composed his 7th symphony during this time and dedicated it to the people of his city.

Shostakovich created his own personal motif, which he named the "DSCH motif." It is 4 notes: D - Eb - C - B. You can hear this musical motif in many of his compositions, including his 10th symphony and 8th String quartet.

In 1942, Shostakovich moved with his wife, son and daughter to Moscow, although he often traveled back to his native St. Petersburg. He continued composing until his death in 1975. He is one of the most respected Russian composers of the 20th century and has been described as the last great symphonist (writer of symphonies).