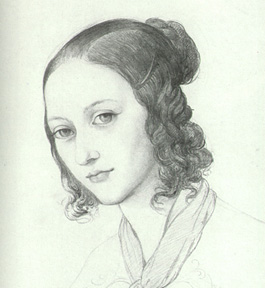 The Composer for January 2019 is:
Clara Schumann
Born: September 13, 1819 in Leipzig, Germany

Died: May 20, 1896 in Frankfurt, Germany

Nationality: German

Style/Period: Romantic

Famous Works: Four Polonaises (for piano); Piano Concertino in F Minor; Piano Trio in G Minor, Op. 17; Piano Concerto in A Minor, Op. 7

Clara Wieck-Schumann is known for being the wife of composer Robert Schumann, but she is also a famous musician in her own right! Her parents were Friedrich Wieck, a music teacher, and Marianne Tromliz Wieck, a pianist and soprano. Clara was a musician from an early age, making her first musical appearance at age 9 and performing her first piano recital at age 11. She didn't just play the piano, however. She studied voice, violin, score reading and composition, among other musical things.

Robert Schumann, another composer and musician, came to study music with Clara's father in 1830, and soon after, Clara and Robert fell in love. Robert asked Clara to marry him in 1837, but Clara's parents objected to the marriage since Clara was 18 years old and Robert was 9 years older than her. Robert and Clara married three years later in 1840. They had eight children together and were great friends with Johannes Brahms, another composer. Robert and Clara kept journals and wrote in them frequently about what they were feeling and thinking about music and life.

Throughout her life, Clara was well-known as a piano soloist, gaining fame for her technical proficiencies, sensitive interpretations of musical works and her ability to express the composer's intent in the music. A composer herself, Clara wrote 66 pieces, including works for piano and orchestra, solo piano and even cadenzas for piano concertos already written by Beethoven and Mozart! Widely respected for her musical opinions, both Clara's husband and Brahms sought her advice and guidance when writing music.