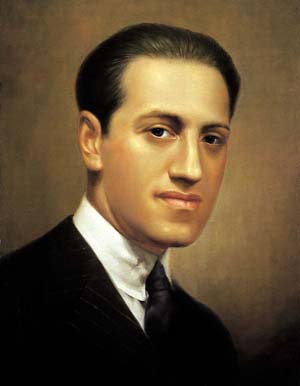 The Composer for September 2018 is:
George Gershwin
Born: September 26, 1898 in Brooklyn, New York
Died: July 11, 1937 in Hollywood, California
Nationality: American
Style/Period: Modern
Famous Works: Rhapsody in Blue; Piano Concerto in F; An American in Paris; "Summertime" from the opera Porgy and Bess; I Got Rhythm

George Gershwin was born Jacob Gershowitz. His parents emigrated from Russia to the U.S.A in 1891. He first discovered music at age 10 at a friend's violin recital in a school auditorium in the lower East Side of Manhattan. George's early interests were not in music, but sports. When a piano was brought into the Gershowitz home for brother Ira, George (age 12) was the one whose interest was sparked. After playing from memory a song he had heard on a neighbor's player piano, George's parents invested in lessons.

By age 15 Gershwin had quit school and landed a job as pianist and "song plugger" for a Tin Pan Alley music-publishing firm, Jerome H. Remick & Company, at a salary of $15 a week. To increase his income, Gershwin recorded piano rolls under various pen names. For his efforts he received $35 for six rolls. He was interested in both 'serious' and popular music, and composed in both styles. He was one of the first composers to combine jazz and classical music styles.

Gershwin wrote his first major successful musical work in 1924, Rhapsody in Blue. Asked by Paul Whiteman to write the work for a special concert of modern music to be presented at Aeolian Hall in New York, Gershwin finished his composition in less than three weeks. The speed of writing was due in part to George having forgotten about the commission. It was when Ira read in the newspaper of the upcoming concert that George's remembered his musical commitment. Much of his inspiration for the work came during a train ride to Boston. According to Gershwin, "with its steely rhythms, its rattlety-bang . . . I suddenly heard - and even saw on paper - the complete construction of the rhapsody from beginning to end. I heard it as a sort of musical kaleidoscope of America - of our vast melting pot, of our unduplicated national pep, of our blues, our metropolitan madness." The score was completed in a week upon his return to New York.

Gershwin went to Hollywood in 1936 to write for the RKO film studio. In mid-1937 he began to complain of headaches, but doctors chalked his symptoms up to stress. In reality he was suffering from a brain tumor; he died on July 11, 1937.

--------- George Gershwin rarely made grand statements about his music. He described himself as a "modern romantic" and was quoted as saying, "true music … must reflect the thought and aspirations of the people and time. My people are Americans. My time is today."