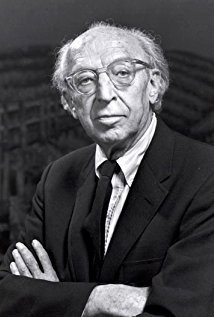 The Composer for April 2018 is:
Aaron Copland
Born: November 14, 1900 in Brooklyn, New York
Died: December 2, 1990 in Sleepy Hollow, New York
Nationality: American
Style/Period: Modern
Famous Works: Fanfare for the Common Man; Billy the Kid; Rodeo; Appalachian Spring; Old American Songs

Aaron Copland was the son of Lithuanian immigrants, Harris and Sarah Copland. He got a late start compared to many musicians, when at age 12 he learned to play the piano from his sister. After a year and a half of teaching himself he finally branched out to take formal lessons.

By 1921 he had received a scholarship to study at the music school for Americans at Fontainbleau near Paris. There Copland would study under one of the greatest composition teachers of the 20th Century, Nadia Boulanger. Boulanger moved Copland from writing short piano pieces to writing symphonies and ballets. Upon his return from his studies in Paris, he decided that he wanted to write works that were 'American in character'

Perhaps Copland's most famous work, Fanfare for the Common Man, scored for brass and percussion was written in 1942 at the request of the conductor Eugene Goossens. The fanfare was also used as the main theme of the fourth movement of Copland's Third Symphony. The same year Copland wrote Lincoln Portrait which became popular with a larger amount of the public leading to a strengthing of his association with American music. He was commissioned to write a ballet, Appalachian Spring, which he later arranged as a popular orchestra suite.

Copland's health deteriorated through the 1980s, and he died of Alzheimer's disease and respiratory failure on December 2, 1990, in North Tarrytown, New York (now Sleepy Hollow). Much of his large estate was bequeathed to the creation of the Aaron Copland Fund for Composers, which bestows over $600,000 per year to performing groups.