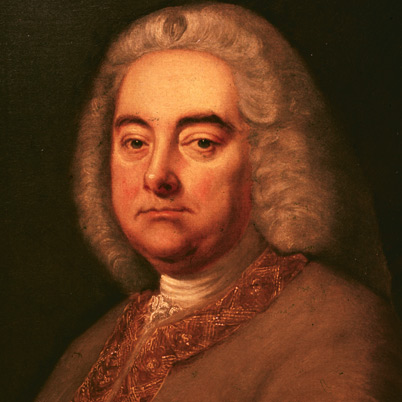 The Composer for September 2017 is:
GEORGE FREDERIC HANDEL
Born: February 23, 1685 in Halle, Germany
Died: April 14, 1759 in London, England
Nationality: German (and English)
Style/Period: Baroque
Famous Works: "The Messiah"; "Water Music"; "Music for the Royal Fireworks"

Handel's father, age 63 when his son was born, was a barber-surgeon who worked for several royal families. He always intended for George to study Civil Law and was quite alarmed when Handel showed such a strong interest in music. At first his father strictly forbade him to "meddle with any musical instrument" but Handel was able to figure out a way to get a little clavichord privately moved to a room at the top of the house. When his family was asleep, Handel would sneak off to this room and practice. It wasn't long before Handel became a skillful performer on the clavichord, harpsichord and pipe organ.

Handel's father was against him having a musical career, but a wealthy nobleman convinced him otherwise. It was a smart move. Handel became an incredible musician. He wrote a lot of music in many different styles, including oratorios, operas, suites and fugues. He was able to focus on his music and the job at hand, which is perhaps why he was able to write his most famous piece, "The Messiah", in only 24 days.

Handel moved to London in 1710 and eventually became a naturalized citizen of England. He lived there for almost 50 years. Handel would have been able to write much more music had he not gone blind in his later years.